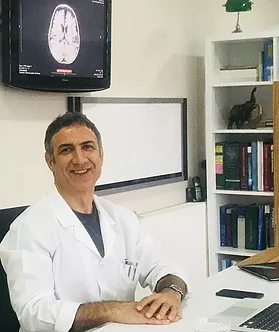 Prof. Dr. Ahmet Yaramış M.D.
Professional License No 66389
Professor
Pediatric Neurology and Pediatrics
Short CV
Professor Dr. Ahmet Yaramış graduated from Dicle University Faculty of Medicine in 1992. He completed specialty education in 1997 at Department of Pediatrics Faculty of Medicine of Dicle University. He worked as a consultant physician for 5 years in the Pediatric Infection and Pediatric Cardiology Units at the same center. In 2006, he completed Pediatric Neurology specialization in the Department of Pediatric Neurology, Children Hospital of Istanbul Medical Faculty, Istanbul University. Then, between 2006 and 2008 at Gaziantep Children's Hospital, he performed compulsory government service as a Child Neurology Specialist. In 2008 he became Professor. Dr. Ahmet Yaramış has been working in his own clinic since 2015.


Education and Hospital Training
M.D. Medical School of Dicle University, 1992, Diyarbakır, Turkey
Assistant Resident in Pediatrics, Dicle University Children's Hospital, 1992-1996 Diyarbakır.
Consultant Physician in Pediatrics Infectious Diseases, University of Dicle, 1998-2003 Diyarbakır.
Consultant Physician in Pediatris Cardiology Unit, University of Dicle, 2001-2003 Diyarbakır.
Fellowship in Pediatric Neurology, Children Hospital of Istanbul University, 2003- 2006 Istanbul, Turkey
State Service for Pediatric Neurology in Gaziantep Children Hospital, 2003-2008 Gaziantep, Turkey
Professor in Pediatrics and Pediatric Neurology Unit, Dicle University Children's Hospital, 2008-2011 Diyarbakır, Turkey
Professional Societies
Turkish Child Neurology Society, 2003
European Pediatric Neurology Society, 2008
AOCNA, The Asian & Oceanian Child Neurology  Association, 2020
ICNA, The Internationa Child Neurology Association, 2021
Turkish National Pediatric Association, 1993
Current Positions
Professor in Pediatrics and Pediatric Neurology in Private Office, Diyarbakır